2-Day Nairobi Wildlife and Countryside Tour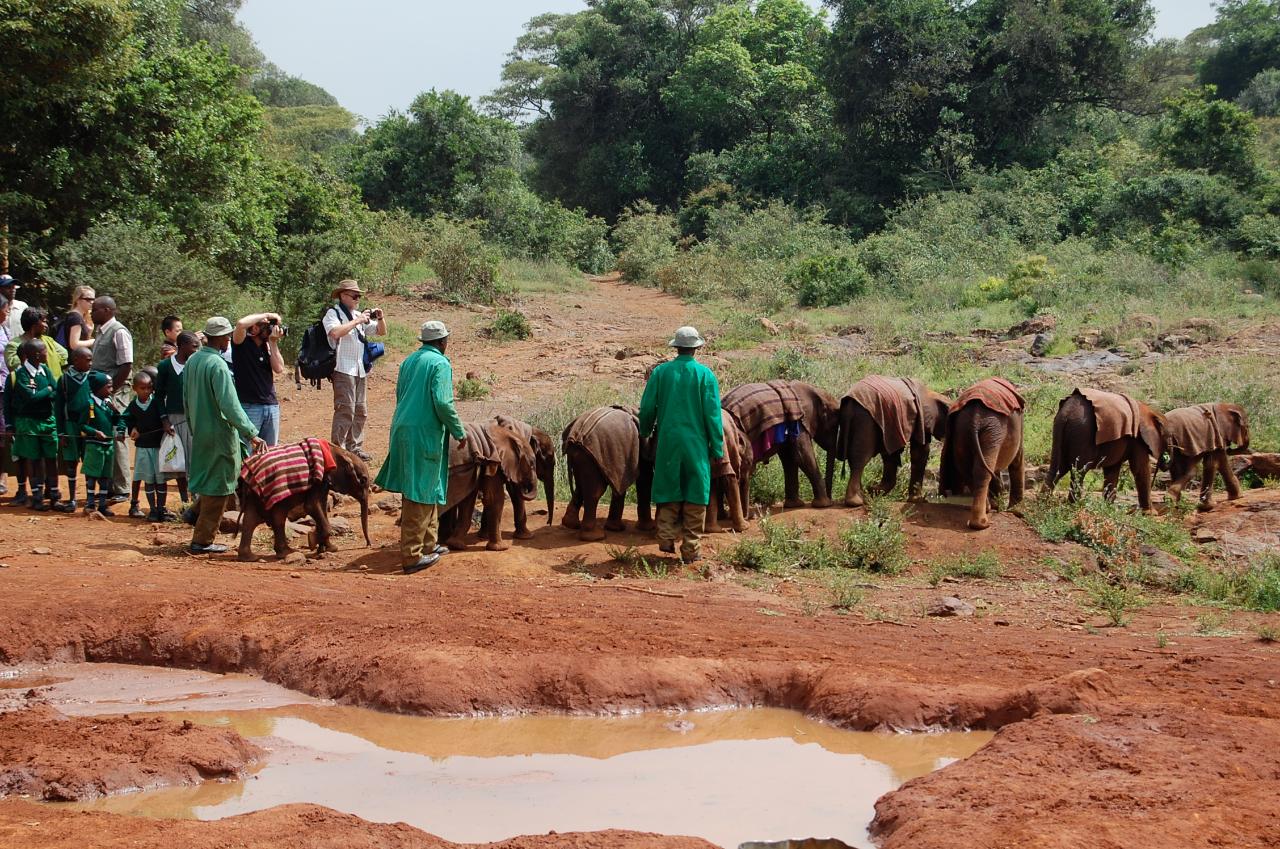 À partir de

USD
150,00 $US
Durée: 2 Jours (environ)
Lieu: Nairobi
Code produit: NBOWILD
PROGRAM OVERVIEW
Duration: 2 days
Discover the diversity of wildlife, culture, serenity and hospitality in
Nairobi's top tourist attractions and sites. Note that for transparency - our tour fees do not cover entrance fees/lunch, please see descriptions below.
Highlights: Uhuru Gardens,
Nairobi National Park, Bomas of Kenya, David Shedrick Trust Elephant Orphanage,
Giraffe Centre, Karen Blixen Museum, and Mamba Village.
INTRODUCTION

Located just south of the equator, Nairobi's city main avenues blaze with
colour from tropical bushes and vines. The city became established by 1907 then
it rapidly grew as a white farming community. It also attracted world attention
as the centre of big-game safaris for the rich and famous. The Nairobi National
Park, lo boasts the presence of all but one of the`Big Five'. Shopping in
Nairobi varies from African clothing and craft shops to open-air markets. There
are excellent museums, offering insights into the fauna, culture and history of
Kenya.
9-10am Uhuru
Garden: We start your day with a trip to Uhuru Gardens, the largest memorial
park and one of the most significant sites to the history of Kenya, and her
independence. This is the site of the 1963 inaugural ceremony of the 1st
Kenya's Prime Minister Mzee Jomo Kenyatta. The Kenyan flag was hoisted by the freedom
fighters and the colonial flag was removed. Nearby is a 24-meter high
monument that commemorates the struggle for independence.
1030-1130am David
Shedrick Trust Elephant Orphanage: This trust was established by Dame
Daphne in honour of her husband, David Shedrick. Its main objective is to rescue
injured and orphaned baby elephants and rhinos, cater for them and later at the
age of two and a half years, they are released into the wild, mainly in the Tsavo
National Reserve. The best time to visit is 11am, where you get to interact
with the baby elephants. Entrance: ~1,500 KES
Lunch - Nakumatt Galleria: Stop over for lunch/snacks, along with shopping opportunities for traditional African attires, artifacts, and souvenirs.
130–3pm Nairobi National Park: The Nairobi National Park located just 7 km
from the city center, is one of the rare national
parks in the world. Its major tourist attractions are the black rhino, lions,
cheetah, hyena, wildebeests, giraffe, zebra and diverse birdlife species with
over 350 species recorded. Entrance: ~2,500 KES
DAY 2
9–1030am Bomas
of Kenya: Arrive
at the cultural Bomas of Kenya, which offers an insight to the visitors in to the diversity of the people, their
lifestyles and traditional cultures of the indigenous groups in Kenya.
11-1230pm: Karen Giraffe Centre: This center founded by Jock and Betty Leslie-Melville was started as a breeding program of
the Rothschild's giraffe, an endangered breed. Interact, pet, and feed friendly giraffes! The Centre is also involved with extensive conservation programs, such as the recycling of
wasted materials, art works and conservation awareness to schools around
Nairobi.
Lunch - Depart to Tamambo Inn for lunch and refreshments.
1–2pm Karen
Blixen Museum: Arrive
at the Karen Blixen Museum, located 10km from the city, at the foot of Ngong Hills. This museum was the home of Danish author Karen and her Swedish husband Baron
Blixen, with the former known for her famed memoir Out of
Africa. Entrance: 2,000 KES
330–415pm Mamba
Village: Our
final trip will be here at Nairobi Mamba village, which as the name suggests is a
sanctuary for crocodiles. The species found here are the Nile crocodiles, one
of the three species found in Africa and the largest. Located just 12km from the
city, the village is best to visit when the feeding program is on. Entrance: 2,000 KES